Selecting Network Interface Card (NIC)
Selecting NIC for the traffic capture is a very important step in TMeter configuring. A dialog for selecting the network adapters is available when you are connected to TMeter Service.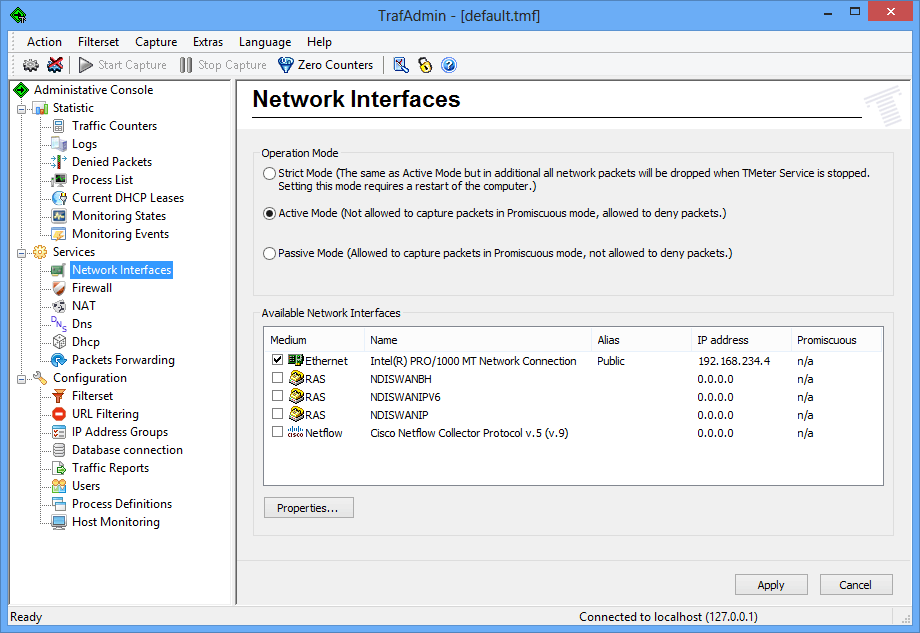 Changing the selection of the network interfaces is possible when the capture status is not "In capture". Before selecting the network interfaces, you should Stop Capture and then Start Capture again.

Note
The alias ("public" or "private") should be assigned to the selected network adapter. Several network adapters can be marked as "private" but only single network adapter can be selected as "public". Public or private interfaces can be used in Rule Editor while constructing the traffic rules to avoid "double counting" of the same network packet. Also, you can enable NAT or the firewall on the "public" network adapter.
You are allowed to select several network adapters simultaneously for the traffic capture.
If this computer acts as a gateway, you must select Active Mode.
For better performance, don't select the network adapters whose the traffic will not be accounted.
The network adapter may have several IP addresses, but you will see only one IP address in the network adapters selection dialog.
Some network adapters based on the RTL8139 chip can be displayed as "NDIS 5.0". This is a normal behavior.
To capture network traffic from Netflow-enabled devices, you should select "Cisco Netflow Collector" adapter. By default, TMeter listens for Netflow packets on UDP port 8818.
See details about Capture Modes